CryptoDragons – A unique Ethereum blockchain-based NFT metaverse
2021 was the year of unprecedented growth in the NFT market, for sure!  
Based on the NFT market tracker DappRadar report, NFT's sales hit $10.7 billion in the third quarter of 2021, with figures for the same exceeding the previous second quarter by 8 times. 
A multitude of projects have been launched over time, but one has the potential to stand out above the others, establishing itself as the next big thing in NFT – CryptoDragons. 
CryptoDragons is an NFT project based on Ethereum. It's the new buzz when it comes to the future of NFTs. A limited collection of 10,000 NFT Eggs will soon be available for minting. The Egg illustrations have been generated using AI algorithms. Each Egg contains a unique NFT dragon. As soon as the NFT Egg is minted, it belongs to its owner. 
The owners of Dragon Eggs will get two NFTs once an Egg is hatched: the Eggshell and the dragon itself. More so, these dragons are more than just beautiful; they are also functional. 
With functionalities such as the ability to breed and battle, the project integrates art with technology. As a result, instead of simply having a picture of a dragon, it has a genetic code (imagine!) that explains its features. CryptoDragons introduces the blockchain DNA concept which is a revolutionary idea. Notably, the team has created four main dragons classes, which include Common, Rare, Epic, and Legendary.
Dragons hatching from the limited 10K collection of Eggs will be the firstborns of their kind; the Eggs cannot be re-hatched in any way. This makes the Eggs unique and of higher value.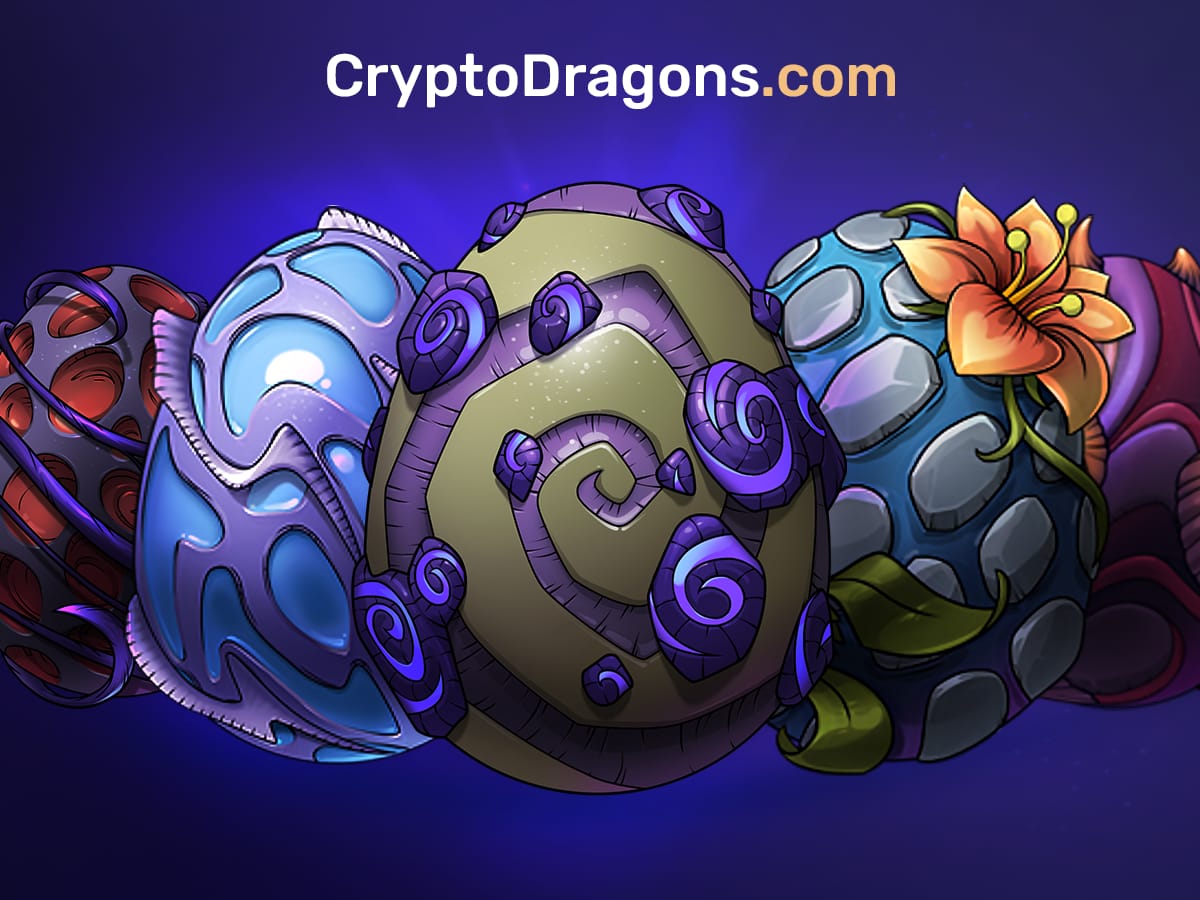 Moreover, the team went one step further and created a Dragon Metaverse where NFT dragons can come to life. Users can create an endless number of unique NFT dragons. A pair of dragons can breed together (except Legendary dragons). The genome and characteristics of newly born dragons are inherited from both their parents. While breeding, a new generation of NFT dragons will emerge giving offspring.
There are 25 basic genes with 16 variations of each gene, each variation has 30 color shade combinations and the unique algorithm selects and overlays the colors depending on the gene combinations that will be created during the breeding.
All in all, the DNA of a dragon can consist of a genome package of 12,000 possible attributes.
While dragon owners will try to breed and collect all 25 genes to have a Legendary dragon in the Dragon Metaverse, it might be their huge achievement to hatch a Legendary Dragon from the beginning.
Legendary Dragons' owners will get 50% of all the breeding-generated income in ETH directly into their wallet for simply holding the dragon. 
The Metaverse evolution doesn't end here. The Dragon Arena will allow dragon owners to arrange battles with other dragons. The Dragon language called Kassis will be used with its own phonetic specifications and separate alphabet. 
Furthermore, the project will expand to a complete dragon Metaverse where the dragon holders can completely use their NFT dragons and enjoy a full Metaverse experience on iOS and Android. CryproDragons is going to be a bullish phenomenon in 2021.
About CryptoDragons
CryptoDragons is an Ethereum blockchain-based Dragon Metaverse where you breed, battle, buy, and sell NFT dragons. The platform creates high-quality NFTs using unique, complex algorithms and the result is original digital art. 
Visit for More Information
Website: https://cryptodragons.com/
Twitter: https://twitter.com/CryptoDragons
Discord: https://discord.com/invite/cryptodragons
Disclaimer: This is a paid post and should not be treated as news/advice