The much awaited Liger ICO finally launched on 17th June: Soon to be listed on Global exchanges
The investment options available in the market are plenty and there are constant new entries that are jostling for space. But once in a while, a new player arrives, that makes everyone stand still and notice, Ligercoin has managed to fill the gaps between the needs and wants of the market. It has brought together the giant gaming community with the emerging blockchain technology.
It, therefore, comes as no surprise that the debutant Liger has become an important part of the blockchain revolution. It is just a matter of time now that Liger will be seen achieving its soft and hard cap targets. With complete awareness of present market conditions and a keen and watchful eye on the future, Liger looks well placed to fulfill its market potential of Four hundred billion USD in quick time.
With the Pre ICO ended on 16th June, and the ICO phase starting from 17th June, the hard market cap of €41 million looks easily achievable through the sale of 2.7 billion tokens.
As demand has grown, the Liger team has upgraded their technological capabilities. Users will now receive tokens in their wallets within 24 hours of purchase. It's a quick and easy procedure where all you do is click on "Claim Your Tokens", provide KYC details and the ETH wallet addresses and so the transaction is complete.
Post ICO, the allocation of funds has been systematically formulated. Liger will be adding multiple offline casinos to its asset base, additionally, there are plans to have Live sports betting website along with online Casino and online fantasy Sports.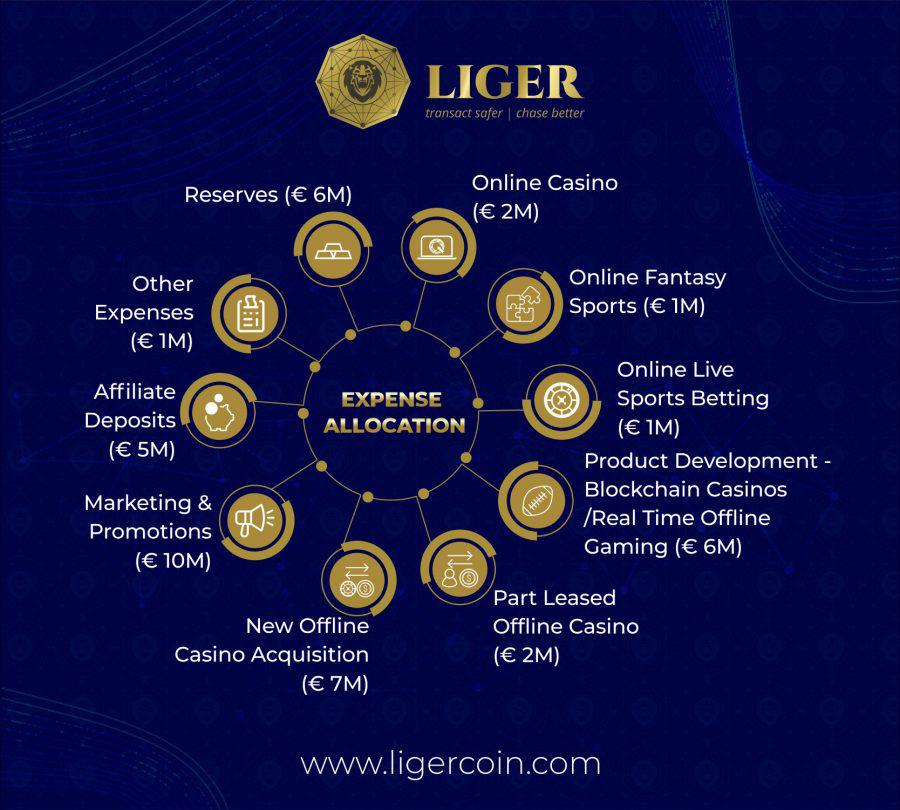 Liger's journey from the seed of an idea to a successful business conglomerate looks very attainable. The core idea was well researched, a leading core team was built, thorough market research was carried out and in February the company was registered. Gaming licenses were acquired in March and the Pre ICO was launched in April 2018 which accomplished on 16th June.
ICO launches on 17th June and will conclude on 1st August 2018. Liger will be registered on global exchanges in August 2018. It will be listed on all major cryptocurrency exchanges around the world, thus reaching a large audience and making the benefits of Ligercoin readily available in the financial markets.
The Liger management team is doing their best to make sure that Liger is fully compliant with all rules and regulations required to be listed on premium exchanges. Towards this end, Liger has successfully passed the Howey test which prevents virtual tokens from being labeled as securities. The Howey test has become the accepted norm for listing. Its decentralized nature and multiple utility preferences qualify Liger as an out and out "utility token", thus making a smooth entry into the gaming world.
June will see the launch of MVP of the official online portal for casino betting, thus taking Ligercoin one more step towards its target. Leading casinos of Sri Lanka and Zambia already accept and acknowledge Ligercoin as a preferred currency. There are numerous other such offline casino partnerships underway.
In September-December 2018, the 'token staking' mechanism is set to be introduced. It will allow existing token holders to stake their tokens with Liger. They get an option to play "For" and "Against" the casino and thus they will be able to generate additional cash flows. In addition to that, this period will also see the launch of the Fantasy sports website and also the launch of Liger's online sports betting portal and offline casino.
It thus leaves no doubt that Liger has a bright future. The Pre ICO and ICO phases are the most appropriate time to invest in this flourishing business concept. The potential of Liger, the present market conditions and the organized plan for its future makes it a near certainty that this project could turn out to be one of the most successful ICOs of 2018.
Follow the Liger Journey here:
To know more, click here!
Ampleforth [AMPL] To Conduct First IEO on BitFinex and Ethfinex's Blockchain Project Launch Platform, Tokinex, in June
Ampleforth expected ticker symbol AMPL, announced today it will be the first initial exchange offering to be conducted on Bitfinex&Ethfinex's token project launch platform, Tokinex.
Ampleforth's whitepaper, co-authored by Manuel Ricon Cruz, a researcher at the Hoover Institute, introduces the Ampleforth protocol. Further context for understanding the implications of AMPL as a new type of synthetic commodity and economic theory is provided in the accompanying Red Book.
The appeal of digital assets like Bitcoin is that they are uncorrelated with traditional asset groups. But, among large-cap digital assets, there is a high degree of non-diversifiable risk and the price volatility of most cryptocurrencies mimic that of Bitcoin.
Evan Kuo, CEO, and founder of Ampleforth said, 
"We see Amples as having a near-term utility that naturally dovetails into a much bigger vision, and I can't wait to see it unfold. The Bitfinex and Ethfinex user communities are among the best in the industry, and we are excited to work alongside the Tokinex team for Amples' exchange debut."
Ampleforth's protocol receives exchange-rate information from trusted oracles and propagates that to holders of Amples by proportionally increasing or decreasing the number of tokens each individual holds according to the magnitude of the exchange rate fluctuations over the previous 24 hrs.
For traders, these changes in the exchange rate and quantity translate into changes in Ample's market capitalization. Ultimately, unique trader behavior in response to the protocol's incentives is expected to produce an asset price with lower correlation to Bitcoin than other digital assets.
Jean-Louis van der Velde, CEO at Bitfinex, stated 
"The Ampleforth project is fascinating to us with its refreshing vision to become a unique digital asset and serve as a potential future reserve currency. We believe it can provide a unique volatility profile, uncorrelated to other digital and traditional assets. This uncharted territory makes Ampleforth, and the team behind it, the perfect first project to list on Tokinex and we are excited to provide an opportunity for the community to be a part of it."
Paul Veradittakit of Pantera Capital said,
"Ampleforth is interesting because there's not another asset like it, so it will likely not be correlated with other large-cap cryptocurrencies. With more traders and enthusiasts entering the ecosystem since the last rise, there needs to be an option like AMPLs, which could reduce the risk for the entire space, and potentially attract more institutional interest."
About Ampleforth
Ampleforth is a digital asset protocol for smart commodity-money funded by Brian Armstrong, True Ventures, Pantera Capital, and Slow Ventures. For more information, please visit our website.
About Tokinex
Launched in May 2019, Tokinex is the IEO platform of Bitfinex and Ethfinex that brings fair opportunity to participate in curated token projects. It gives qualified participants the chance to contribute to pre-vetted token sales directly from their personal wallet through common crypto assets, and with no personal data or funds held by the exchange.
Tokinex uniquely does not require tokens to pay an upfront fee for listing and following a successful capital raise are subsequently listed on the two exchanges as permitted by applicable law.
For further information please contact.