What strong buying pressure on Bitcoin means for its price?
---
Stablecoin inflow and Bitcoin Netflow have had a significant impact on Bitcoin's price historically. The Binance Coinbase premium gap is an indicator that alerts retail traders to strong buying pressure on Bitcoin. The asset is currently trading above $61170 based on data from CoinMarketCap.
Throughout the bull rally of the current market cycle, there are several indicators and conditions that have a direct impact on Bitcoin's price. CryptoQuant CEO Ki Young Ju recommended setting alerts for some specific conditions that may signal a reversal of the trend in the short-run. He suggested retail traders set alerts for BTC stablecoins ratio USD < 15, for when all stablecoins transaction count inflow for all exchanges exceeds 100 and, for taker sell volume crosses 250000000. These specific conditions when met would lead to a near/immediate drop in price.
Source: Twitter
Another important indicator of Bitcoin's increasing buying pressure, is the number of stablecoin deposits across all exchanges, indicating on-chain buying pressure, in addition to the premium gap on Coinbase. Stablecoins are used for moving Bitcoin across exchanges, however, that is widely known. What's more, is that they can be used for margin in derivative exchanges, so it's not necessarily a bullish signal for the price rally, but it may be a volatility signal. Additionally, Bitcoin's Taker Sell Volume, the total volume of sell orders filled by takers in perpetual swaps in all derivative exchanges has key indications of the asset's trend reversal and price correction in the ongoing market cycle.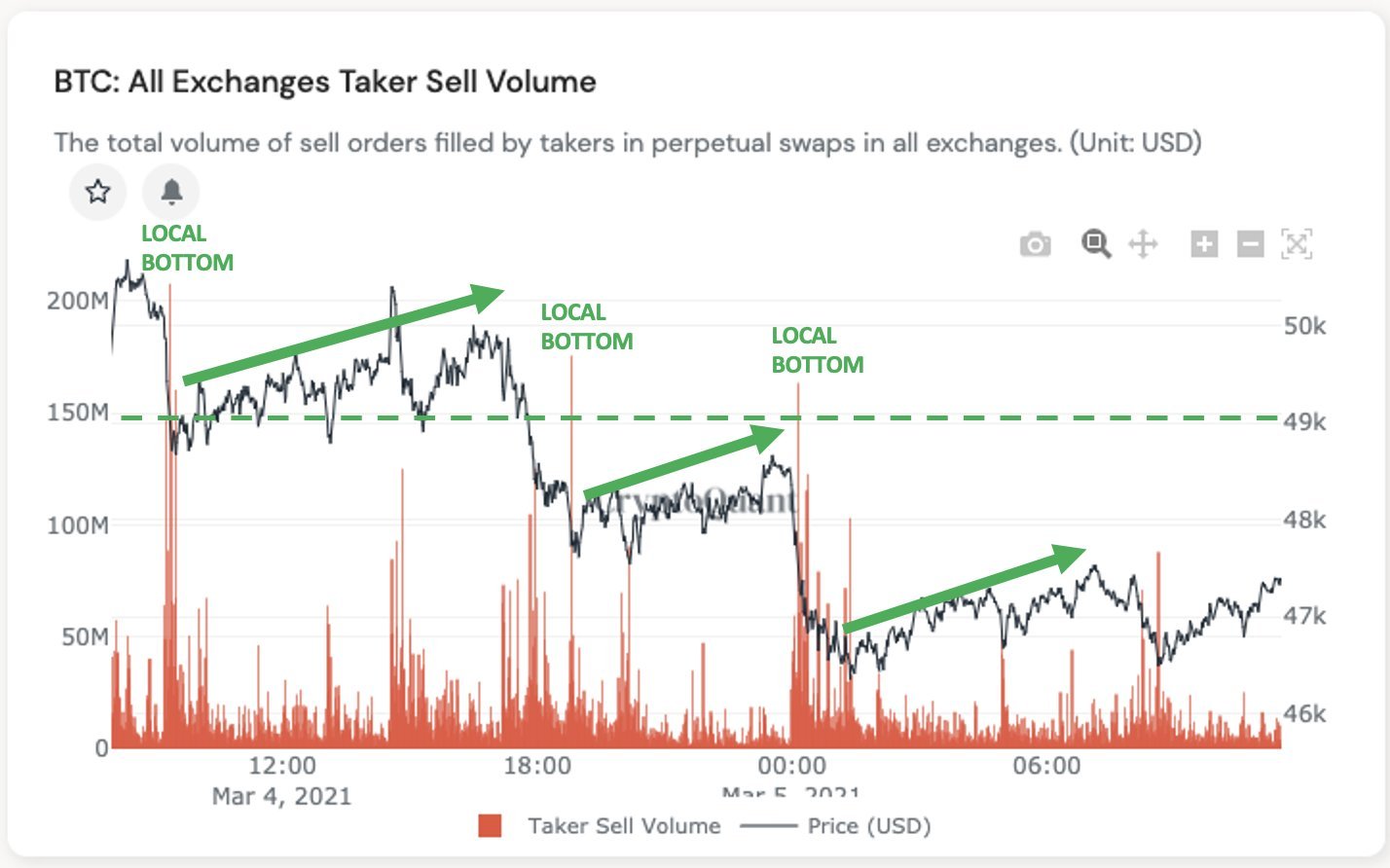 Source: Twitter
A strong buying pressure, at a time when institutional demand is up, based on Coinbase pro outflow signals a bullish sentiment and building buying pressure. Additionally, increasing retail demand with increasing active addresses and wallets with a balance over 0.1 Bitcoin, signals a bullish sentiment over the weekend.
Though the sentiment is neutral, the price is expected to start discovery beyond $63000 after the weekend. Buying pressure has already led to a new ATH above $61k and if there is a price correction in the current price rally, it may drop below $57000 over the following week. However, if the buying pressure on Bitcoin continues to rise on spot exchanges, the asset's price rally may extend beyond $63000, in the near term. The current price action also signals a bullish sentiment on derivatives exchanges and Bitcoin's target of $63000 may soon be achieved.